Ensuring Safety Meets Standards
In Canada, the Canadian Electrical Code requires manufacturers or importers of electrical products to get them "approved" for electrical safety. For a large volume of units, a certification company like Canadian Standards Association (CSA) or UL make sure the product meets an acceptable level of safety specified in the Canadian standards. For smaller quantities of electrical products, this approval is done by field evaluation. The field evaluation process follows the CSA SPE-1000 standard, which has three mandatory and non-destructive tests. Upon successful inspection, eSAFE will deem your electrical equipment to be "approved" and label it on the spot. If equipment does not meet Canadian Codes and Standards, eSAFE's inspectors will provide you with a report detailing the required alterations. We will support your staff throughout the process until your equipment is approved. eSAFE's expertise can help you avoid unnecessary delays in using or selling your electrical equipment in Canada.
If your electrical equipment or safety needs fall into any of the categories below, eSAFE is your best solution for fast, expert, and cost-effective service:
Low volume and "one-of-a-kind" equipment
Prototypes and innovations
Equipment already shipped or onsite
Witness Testing
Pre-construction drawing review
eSAFE is accredited by the Standards Council of Canada to field evaluate a broad scope of electrical equipment. Our experience is vast and includes assembly line machinery and material handling equipment, extrusion and injection equipment, plant automation equipment, used and/or retrofit equipment, robotic technologies, renewable energy equipment (e.g. solar wind turbines), and automotive manufacturing and their suppliers.
When To Call Us
All too often, companies call us when their electrical equipment has been cited for non-compliance. This can result in lost time and revenues in utilizing or selling your electrical products. We recommend that you call eSAFE as early as possible in your process to avoid unnecessary delays.
Development Stage – eSAFE's inspectors understand how equipment is built from the ground up. They can review plans and provide technical assistance to define equipment requirements necessary to meet Canadian CSA Codes and Standards.
Upon Arrival in Canada – When your equipment arrives in Canada, it must be inspected and approved before it can be used or sold. eSAFE inspectors will respond to your request within two business days to help you get the approval you need.
Before Shipping to Canada – Our inspectors will service you anywhere in the world to test and pre-approve equipment before arrival in Canada. This allows you to make any adjustments on location and avoid business delays.
Non-Compliance Citation – If a regulator has found your equipment to be non-compliant, you will not be able to use it until it meets standards and has been approved. eSAFE inspectors will work with you to find technical solutions and help you achieve compliance.
Frequently Asked Questions
1. I have many items for inspection that are identical. Can you inspect one and, if it passes, just provide labels for the rest?
No, this is not permitted for two reasons. First, the SPE-1000 code requires all products to be inspected, prototype testing is not allowed. Secondly, our rules of accreditation prohibit an inspection agency from leaving labels with the customer, or for anyone other than an inspector to apply a label.
2. Is there a maximum number of items that can be inspected?
Quantities vary by Jurisdiction. In Ontario and most other provinces, the maximum per model per year is 500 units. Please contact us for the limit that applies to your product.
3. If I get eSAFE approval, do I still need to get a CSA label as well?
No, the CSA and eSAFE labels represent approval to the same standard and both are recognized in all jurisdictions in Canada.
4. What tests do you perform?
At a minimum, the inspector will perform a hi-pot test. Other common tests that may be performed depending on the design of the product are the flame test and strain relief test. Other testing may be required depending on the nature of the product and the applicability of other technical standards, if any.
5. What are the legalities relating to electrical product approval?
By law, all electrical products must be certified or field evaluated to electrical safety standards before they can be used or sold in Canada. An eSAFE approval meets the requirements of Rule 2-024 – Ontario Electrical Safety Code, and the requirements of all other jurisdictions in Canada.
Electrical equipment is deemed to be approved if it has been approved according to the process set out in section 2 of Ontario Regulation 438/07.
The Electrical Safety Authority (ESA) recognizes certification bodies and field evaluation agencies accredited by the Standards Council of Canada to certify or evaluate electrical products or devices. Only equipment bearing a recognized mark or label is deemed to be approved.
Failure to comply with these Rules or the Regulation is an offence and upon conviction, a person or director/officer of a corporation could be found liable to a fine of up to $50,000 and/or imprisonment of not more than one year. A corporation may be found liable to a fine up to $1,000,000.
In Ontario, ESA also has the authority to order products be quarantined, seized or forfeited to the Crown for disposal.
The eSAFE Marks
eSAFE's labels are recognized across Canada under the Standards Council of Canada accreditation program. The following are our S and P Approval Marks.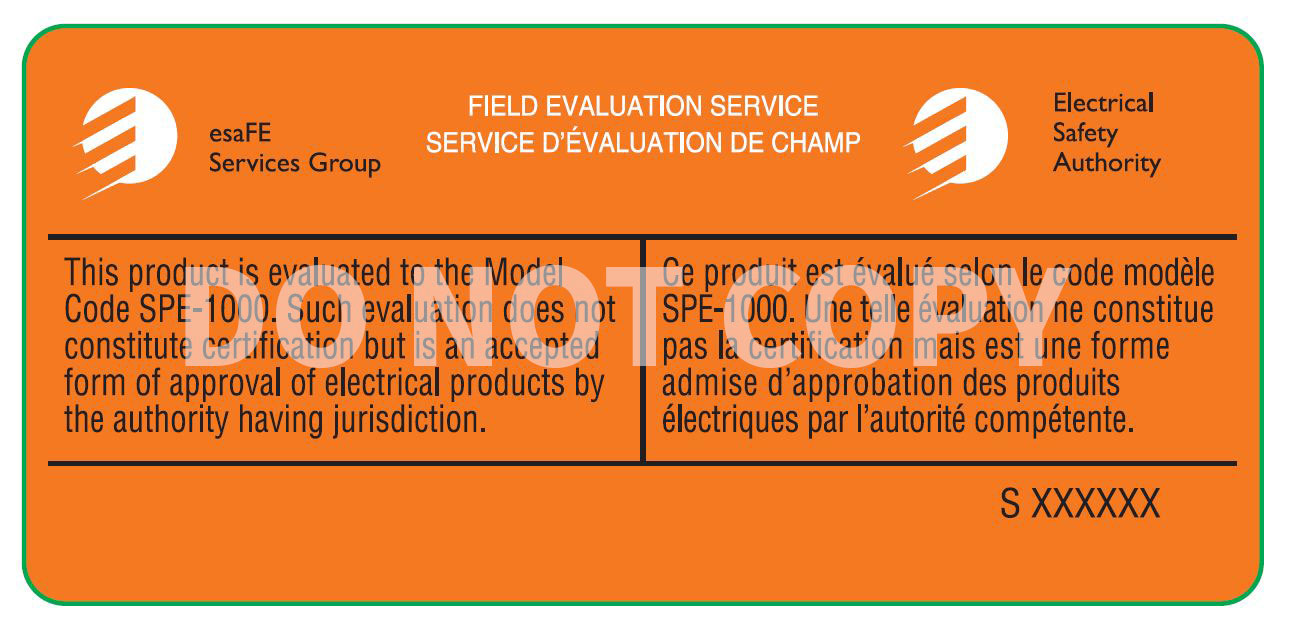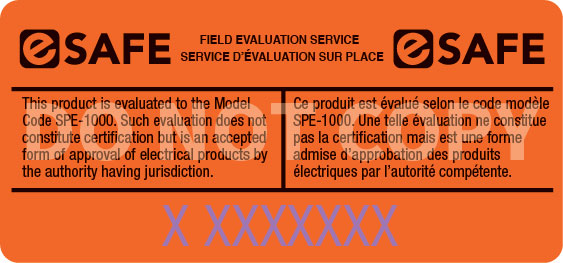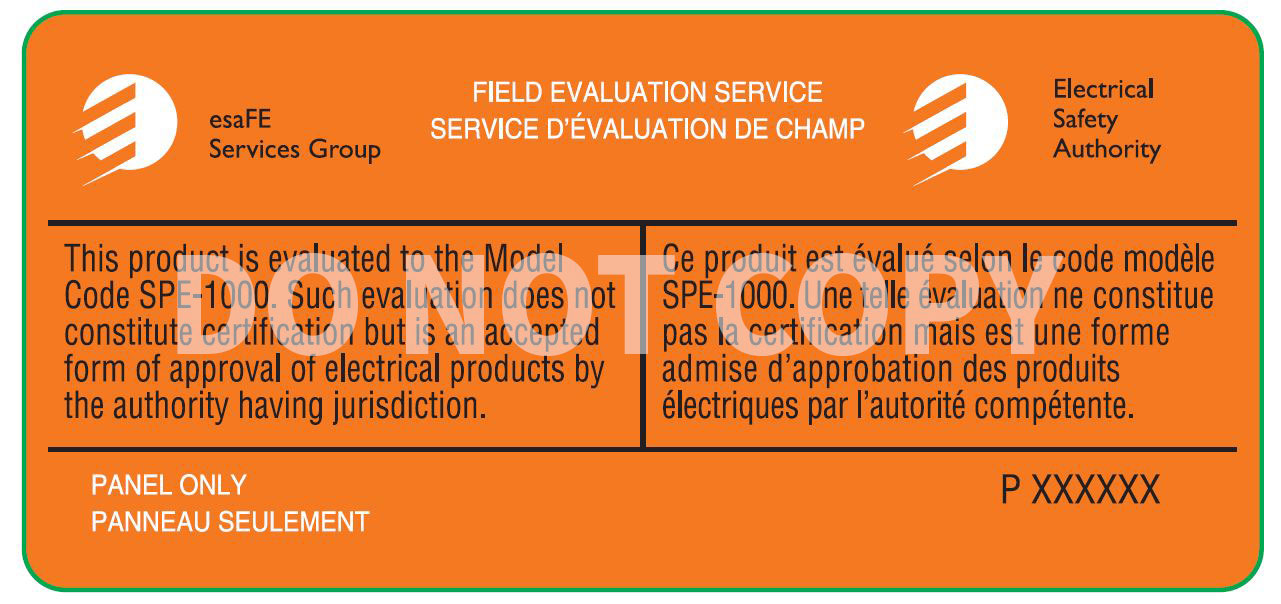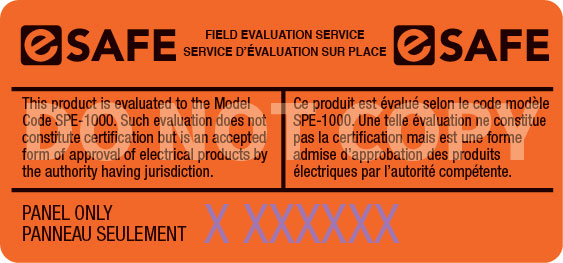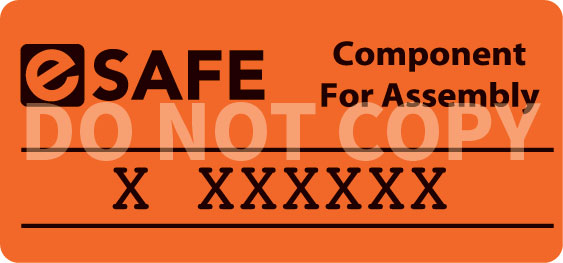 Some components or devices, because of their construction, cannot meet all criteria found in the SPE-1000.

However, with additional constructional or marking elements considered or testing undertaken in an end use product, the component could be found suitable.

The eSAFE component label is intended for exclusive use by our inspectors to represent that such a component or device would be suitable for use in an overall product evaluated, by eSAFE, to the requirements of SPE-1000 and other Canadian Electrical Code Part II standards. The component label may also be used to identify subassemblies used as spare parts in an end product labelled by eSAFE or in a complex installation to identify various sections of interconnected devices/products on which an overall nameplate, Master label and an S label will be provided.